NEW! Tool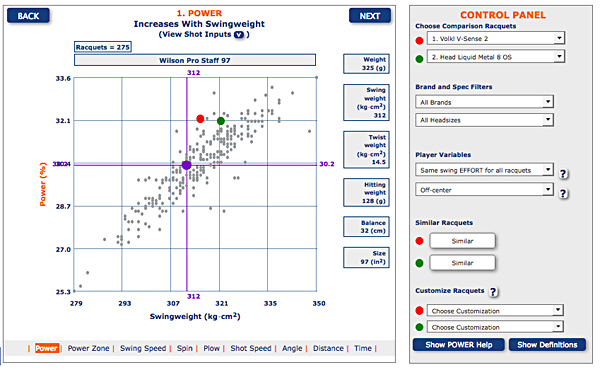 The interactive TWU Racquet Performance Analysis Tool compares the shot performance of every racquet to every other in 9 areas —shot ...
Speed
Distance
Spin
Launch angle
Flight time
Swing speed
Power
Power zone size
Plow through
Racquets can be filtered and compared
All at once, or by brand, or choose any 2 or 3 to compare.
By headsize, swingweight, weight, balance, twistweight, or vibration frequency.
By swinging with the same effort or the same speed for each racquet.
By on-center and off-center hits.
OTHER FEATURES
Similar racquets:

Highlight and compare all similar racquets to each other.

Customize racquets:

Customize racquets and show the result compared to all other racquets.

Help buttons, icons and screens:

Multiple information sources for explanations, definitions and terminology.

Interactive:

Simply click on any of the dots or choose from the dropdown menus in the Control Panel.